Chops and Steaks
Smaller cuts of meat for everyday teas. They can be eaten in much the same way as a roast dinner, with a sauce or just plain.
Steak and Chips
Common to pretty well all European cuisine, this can be eaten plain or with a pepper sauce. A variety of cuts of meat can be used, but they need to be pretty lean to avoid the steak being tough. Chips can be chunky or thin. On the other hand, it doesnít have to be chips. Pretty well any other type of potato goes well.
| | | |
| --- | --- | --- |
| <![if !vml]><![endif]> | <![if !vml]><![endif]> | <![if !vml]><![endif]> |
Veal Escalopes in a mushroom sauce
Tender beef steak beaten flat and thin, then topped with a slice of ham, stuffed with a mix of fried celery, apple and cheese, rolled into a ball and fried in butter. Accompanied with a sauce made from mushrooms and onion.
<![if !vml]>
<![endif]>
†
Lamb chops or cutlets
Nice with mint sauce and rosemary potatoes. These can be served with ordinary gravy or a redcurrant Ďjusí. In England, cutlets are the same as chops and rarely breaded. A famous exception to this is ĎLamb Cutlets Reformí which was invented around 1830 at the Reform Club in London. These are coated with a mix of breadcrumbs and bacon and grilled for about 4 minutes on each side. The reform sauce is piquant and made of vinegar, port, red currant or cranberries, cloves, mace, bay leaf and thyme.
| | | |
| --- | --- | --- |
| <![if !vml]><![endif]> | <![if !vml]><![endif]> | <![if !vml]><![endif]> |
Portmanteau lamb chops
Said to resemble the portmanteau travel bag, this is a lamb chop cut across and stuffed with a mix of chicken liver and mushroom, breaded and roasted. This dish comes is said to have originated in the Cotswolds and traditionally served as a Ďhuntí breakfast. I have to be honest and say Iíd never heard of it. But sounds good!
<![if !vml]>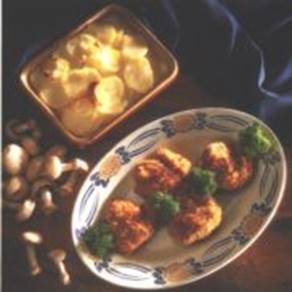 <![endif]>
†
Oxford John Steaks
A hidden gem! One of my favourite taste combinations and yet hardly known outside Oxfordshire. A leg steak of lamb, pan fried in a light gravy with added capers and a little of their vinegar. Try it. Iím sure you will love it!
Sorry about the quality of the picture. Itís the best I could find.
<![if !vml]>
<![endif]>
Pork chops and pork fillet
A very versatile cut; from plain to mushroom sauce, thick and juicy to thin and crispy or whatever. I often like to have a sausage with pork chops.
| | |
| --- | --- |
| <![if !vml]><![endif]> | <![if !vml]><![endif]> |
†
Pork ribs
The traditional style of eating ribs in England plain and served with apple and gravy Ė sometimes a cider gravy. Beef and lamb ribs are also prepared in a similar style and served with their traditional accompaniments.
| | |
| --- | --- |
| <![if !vml]><![endif]> | <![if !vml]><![endif]> |
Pork chop or fillet in a mustard and cream sauce
A traditional dish from the south west. Usually includes a little white wine and whole grained mustard.
<![if !vml]>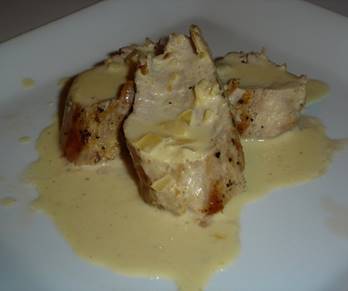 <![endif]>
Gammon and Bacon
Typically pan fried and served with pineapple or apple sauce with choice of potato. It is a popular pub meal where it is typically served with chips, a fried egg and pineapple. Painswick Bacon chops is a west country dish with a cider sauce made of dry cider, mustard powder, sugar, flour and butter. This cider sauce can also be used to accompany a pork chop, sometimes with the addition of a little bacon. (It can be used with chicken as well!)
| | | |
| --- | --- | --- |
| <![if !vml]><![endif]> | <![if !vml]><![endif]> | <![if !vml]><![endif]> |
†
Ham with peese pudding
A very old dish. Preserved ham with preserved peas was needed to keep you going over the winter months. Dried peas were soaked overnight in soda and then boiled into a puree. Peese pudding is the precursor to mushy peas. It is served with any kind of ham really, whether sliced, a steak or a joint. This combination also forms the basis of pea and ham soup. In southern England it is often also served with faggots.
As a puree, similar to hummus, I think this dish could be more widely used as a dip or in salads. I wonder what it would be like rolled into balls and deep fried like falafel?
<![if !vml]>
<![endif]>
Bacon chops with gooseberry sauce
This is an old fashioned recipe from the Midlands. A mix of brown sugar, mustard powder and pepper is rubbed into the bacon chop. Then the onion and gooseberries are pan fried in a little butter, blended and then pan fried with the chop. Another dish Iíd never heard of that also sounds good. Iím sure it would also work well with an ordinary pork chop.
<![if !vml]>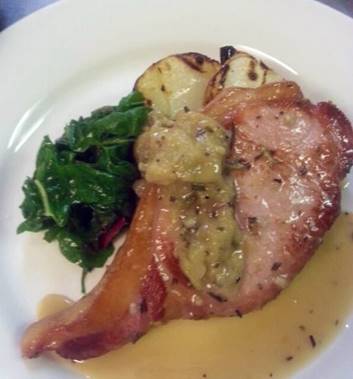 <![endif]>
†
Chicken and chips
I wasnít sure where to put this one so Iíve put it here. In England, the chicken is usually a chicken leg, plainly roasted with a few herbs. It can be eaten on its own with chips or as part of a bigger dinner with potatoes, veg and gravy. It does go well with chips, gravy and spinach! Chicken legs and breast fillets are also eaten with several other white wine, creamy mushroom, mustard sauces and with new, mashed and jacket potatoes.
| | | |
| --- | --- | --- |
| <![if !vml]><![endif]> | <![if !vml]><![endif]> | <![if !vml]><![endif]> |
Spatchcock Chicken
Spatching a chicken is an old cooking style that involves cutting it straight down the middle and taking out the backbone, opening it up and quickly roasting or barbequing it. Iíve included it in this section because I think it fits in more with the style of meal here than a full roast. Spatchcocks can be flavoured with various herbs; thyme with lemon or orange are common.
| | |
| --- | --- |
| <![if !vml]><![endif]> | <![if !vml]><![endif]> |
Norfolk Turkey breasts with asparagus
Whilst originally an American import, Norfolk has long been associated with both Turkey and Asparagus. This is a simple white wine sauce, maybe flavoured with a herb of choice and served with asparagus and new or mashed potatoes.
| | |
| --- | --- |
| <![if !vml]><![endif]> | <![if !vml]><![endif]> |