Pies
Hot Savoury Pies
When it comes to comfort food there is nothing, but nothing, that beats a good pie. There is a huge variety of pie fillings and at least three main pastry types; short crust, suet and rough puff. Homemade pies (even if you don't make your own pastry) are so much better than commercial ones that it really is worth the effort.
Steak and kidney
The undisputed king of the English savoury pie, this is a pure treat. I'[d say fry the meat and onions in beef dripping rather than vegetable oil and don't be put off by the kidneys. They are essential to the flavour of this pie. Serve with seasonal potatoes and a selection of veg – and don't forget to reserve some of the stock to make additional gravy! This is a dish that goes particularly well with freshly made English mustard.
| | | |
| --- | --- | --- |
| <![if !vml]><![endif]> | <![if !vml]><![endif]> | <![if !vml]><![endif]> |
Steak and kidney pudding
Actually, if there is one thing that beats a pie for comfort food, it is a pudding! Again, the filling could be just about anything, but steak and kidney is by far the most common. The pudding is made from a suet pastry which is then used to line a pudding bowl and steamed in boiling water. The pastry is soft and delicious.
| | |
| --- | --- |
| <![if !vml]><![endif]> | <![if !vml]><![endif]> |
Other steak pies
Other variations on this theme includes, steak pie, steak and mushroom pie, steak and ale pie, meat and potato pie and an old fashioned steak and oyster pie. The picture on the left shows a pie with a baked suet pastry topping.
| | | |
| --- | --- | --- |
| <![if !vml]><![endif]> | <![if !vml]><![endif]> | <![if !vml]><![endif]> |
Beef Wellington
Probably an adaption of the French dish 'boeuf-en-crout', this has become one of the signature dishes of English cuisine. And it 'feels' English rather than French. Made with a fillet steak with a pate topping and baked in a pastry. Truly fantastic!
| | |
| --- | --- |
| <![if !vml]><![endif]> | <![if !vml]><![endif]> |
Corned beef
I remember having this at school and everybody was convinced it was horsemeat! Good though.
<![if !vml]>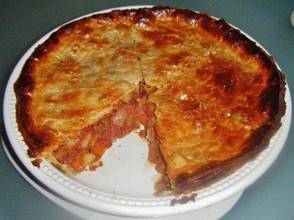 <![endif]>
Chicken and ham 
This is probably the second most common style of pie. Again, there are many variations on the theme, but it revolves around lighter meat and a creamy sauce rather than gravy. The filling can be a combination of chicken, turkey, ham, mushroom, onion and leak. The sauce may be a plain white mushroom sauce or a white wine sauce. Fidget pie is with just bacon and a little cider.
| | | |
| --- | --- | --- |
| <![if !vml]><![endif]> | <![if !vml]><![endif]> | <![if !vml]><![endif]> |
A regional variation of this dish in the West Country is known as 'Likky Pie' – leeky pie.
<![if !vml]>
<![endif]>
Lamb and mint
Always a winning combination!
<![if !vml]>
<![endif]>
Mutton Pies
Also known as Scotch pies, these are filled with mutton and highly seasoned with pepper. They are usually eaten cold but are served hot as well.
<![if !vml]>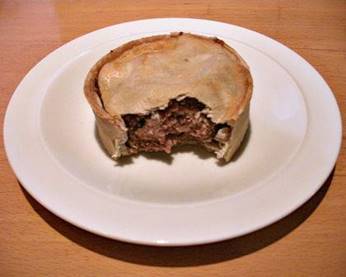 <![endif]>
Game
Game pies are an important feature of autumn cuisine, especially in rural areas. They may be made of game birds such as pheasant or deer or a combination of different meats. The stronger flavour of the game is usually complemented by a red wine or even a port gravy and particularly with venison the use of juniper berries.
| | |
| --- | --- |
| <![if !vml]><![endif]> | <![if !vml]><![endif]> |
Rabbit
Rabbit pie is an old standby, often put on the plate in days gone by through a little poaching. In northern England it tends to be made in a gravy with bacon. In East Anglia it is made with a more creamy, apple based sauce.
| | |
| --- | --- |
| <![if !vml]><![endif]> | <![if !vml]><![endif]> |
Cornish pasty
Always good, but the real ones from Cornwall are by far the best. Made with ground beef, onion, potato and swede and seasoned with pepper. In the old days, Cornish miners would take a pasty down the pit with them, tucked under their shirt to keep it warm. The pasty would be savoury at one end and sweet at the other.
| | |
| --- | --- |
| <![if !vml]><![endif]> | <![if !vml]><![endif]> |
London pie and mash
East enders developed a distinct form of pie and mash. These contain many of the traditional fillings, but also eels and shellfish and are served with mash on the side of the plate and a parsley sauce made with eel stock known as 'liquor'. Sometimes, eel is served as an accompaniment to the pie.
| | | |
| --- | --- | --- |
| <![if !vml]><![endif]> | <![if !vml]><![endif]> | <![if !vml]><![endif]> |
And the more northern version!
<![if !vml]>
<![endif]>
Egg and bacon
A very old fashioned pie – an English version of Quiche Lorraine.
<![if !vml]>
<![endif]>
Cold Savoury Pies
Whilst you can eat hot pies cold, these are intended to be only eaten cold. They are much drier and tend to be eaten for lunch, as cold meat salads or picnics. Cold meat pies go well with freshly made English mustard or Piccalilli.
Pork Pie
Easily the most popular of cold meat pies, these are made from a mix of cured and/or uncured pork (pork shoulder, belly pork, ham or bacon) seasoned with herbs and white pepper and then set in a hand raised pastry. A gelatine liquid is poured into the cooked pie to fill the gap caused by the cooked meat contracting from the pastry. A variation is Gala Pie which includes chicken and boiled eggs as well as the pork and usually comes in an oblong shape.
| | | |
| --- | --- | --- |
| <![if !vml]><![endif]> | <![if !vml]><![endif]> | <![if !vml]><![endif]> |
Chicken and ham
There are a great variety of cold pies that combine, chicken, turkey, pork and ham, usually in layers.
| | | |
| --- | --- | --- |
| <![if !vml]><![endif]> | <![if !vml]><![endif]> | <![if !vml]><![endif]> |
Game Pies
Made with game birds or venison, often mixed with pork or chicken, these are quite different from the hot pie version.
| | |
| --- | --- |
| <![if !vml]><![endif]> | <![if !vml]><![endif]> |